Out and About - 2019
Here you will find a brief summary of the events in which our Branch members have been involved. Full accounts are published in the members' Branch Newsletter each month.
Branch New Year Lunch - Sunday 27th January 2019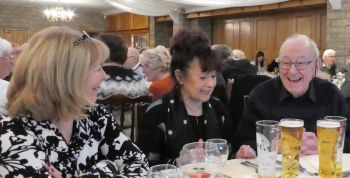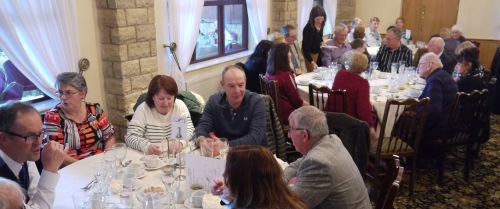 Our annual New Year lunch was again a great success with over sixty people enjoying a lovely meal at Ferraris Country House Hotel. This was the 20th year the Branch has held this event at this great venue and it is always one which never fails to provide lovely food, lively company and lots of laughter. An excellent event which cheered everyone up after the frenzy of the festive season.
Mechanics Day - Saturday 9th February 2019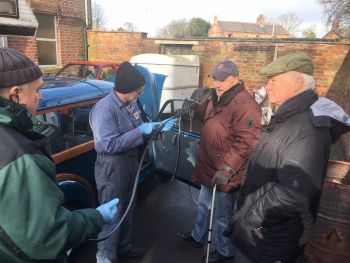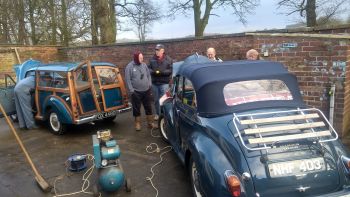 This was the first of our monthly Mechanics Days which was enjoyed by several Branch members who arrived and left at various times during the day. As always , a variety of jobs and projects were tackled, lots of parts found from Branch stock and lots of tea and chat enjoyed by all!
Manchester Branch Winter Rally - Sunday 24th February 2019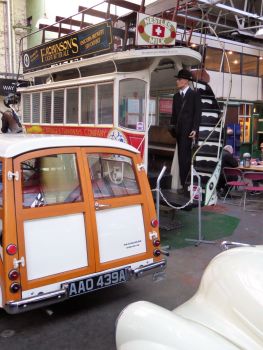 A total of 47 Morris Minors from various Branches attended this year's Winter Rally held at the Museum of Transport, Manchester.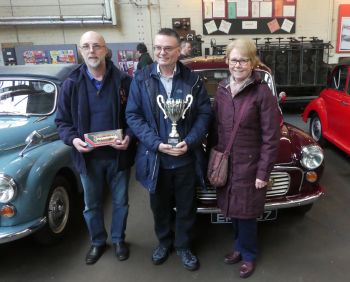 This great event which is organised by the Manchester Branch MMOC was made even better this year due to fabulous weather and the usual free bus rides were available to tour parts of Manchester that you might otherwise not see. Several Branch members enjoyed both the museum exhibits and bus rides. We were delighted that two of our members' cars won prizes. Congratulations go to Steve and Wendy for winning "Car of the Show" with their maroon 2 door saloon and Bill and Kathleen with their blue traveller which took third prize. A very good start to this year's show season.
Branch Visit to Klassic Toyz - Saturday 30th March 2019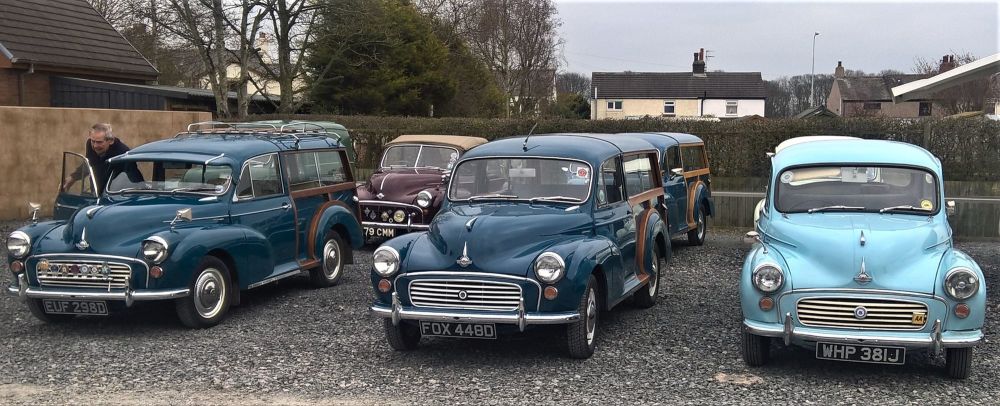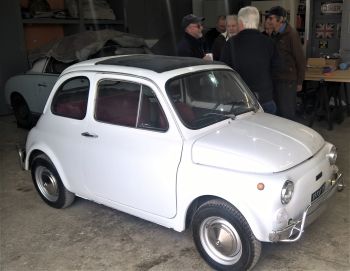 Several Branch members took this opportunity to visit Klassic Toyz in Pilling. Having met up at The Flower Bowl at Barton Grange they travelled in a convoy of Morris Minors to hear Gary Winfield, owner of Klassic Toyz, enthusiastically explain the process of detailing and restoring the paintwork of classic vehicles. Who would have realised how many stages were involved in getting a car look pristine? Gary explained that power washing was good and that we should never use a leather to dry off a vehicle as they can scratch the paintwork. A lovely old Italian Fiat stood in the workshop showing just what can be achieved. Gary is willing to give advice to any member wanting to liven up their car's paintwork. A most interesting and informative visit.
Branch Visit to Embsay & Bolton Abbey Steam Railway – Good Friday 19th April 2019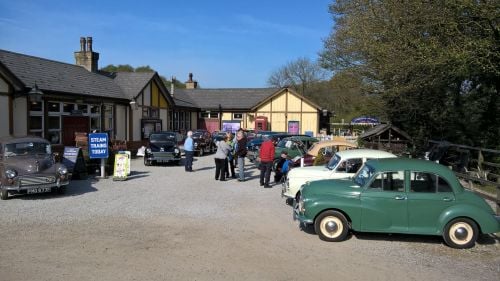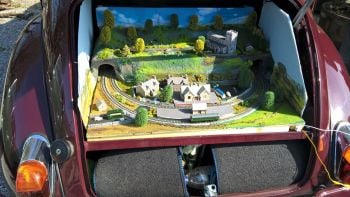 Good Friday was a warm sunny day for the Branch's annual visit to Bolton Abbey Station on the Embsay & Bolton Abbey Steam Railway. Sixteen Morrises arrived at the station, some in convoy and they all looked resplendent in the sunshine outside the station building joined by a super Riley RM and an ex London taxi! One of our member's lovely convertible had a model railway display including several moggies in the boot - when have you ever seen that before?
North Euston Hotel Classic Car Show, Fleetwood – Easter Sunday 21st April 2019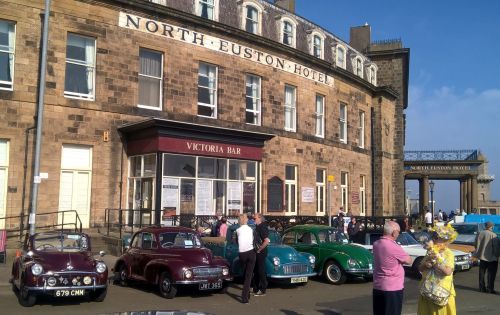 On what was the hottest day of the year so far the North Euston Classic Car Show was a complete sell out with the gates closing at 10:00 am after around 120 cars had been parked in front of the impressive curved North Euston Hotel. Club members met at the River Wyre Hotel before travelling together in convoy to the event. There were some beautiful cars of all marques on display and a Minor 1000 once owned by two of our members was sold on the day to a couple from Southport who had come in their lovely Morris 8 Z van. We look forward to seeing them at some of our events in the future.
Vintage trams added to the variety as they stopped in front of the hotel. The beaches were crowded and everyone was clearly enjoying an old fashioned day by the seaside. A great way to spend Easter Sunday.
Shackleton's Super & Classic Car Show, Clitheroe – Easter Sunday 21st April 2019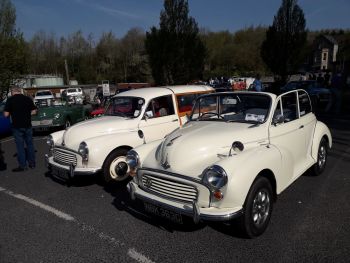 Our Branch was represented by a few members and their Moggies at this great event. There were some super vehicles on show and it was extremely lively and busy.
Branch Visit to the William Hunter Museum, Tarleton – Wednesday 24th April 2019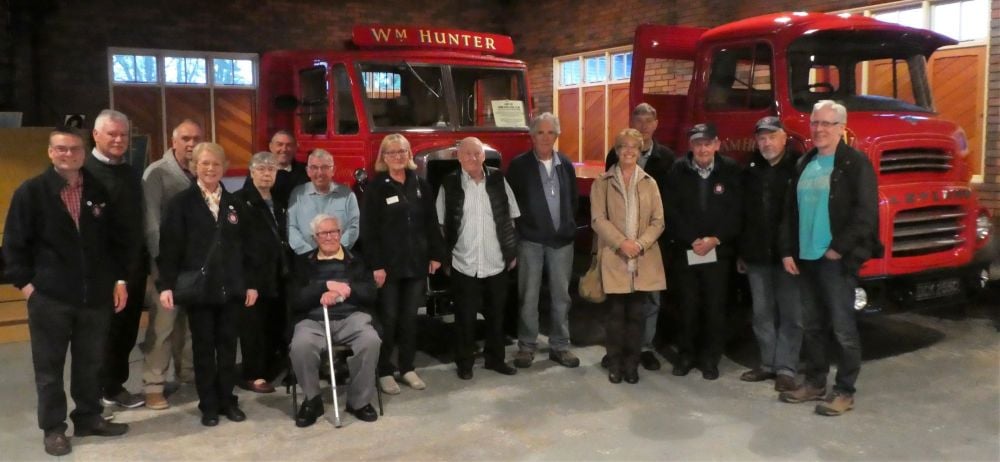 A visit to this small but beautifully preserved collection at Holmes, Tarleton is always special. The exhibits, which were wonderfully maintained and presented, are not just museum pieces but are also taken out on a regular basis to shows and displays throughout the region. To prove this point two of the oldest vehicles were started up, instantly, for us. The building, which was purpose built by William Hunter before he passed away in 2014, is a testimony to his love of the vehicles, and is carefully constructed with materials from as far away as Canada.
In amongst the vehicles is also a beautiful Compton organ saved in the nick of time when the Grand Theatre in Southport was being demolished. Fully operational, we had a real treat when one member's 93 year old dad played the organ for 45 minutes without any music to read from. What a wonderful treat!
The museum also holds a really interesting collection of transport memorabilia and pictures. The lovely weather over Easter had been replaced by heavy rain and thunderstorms but even so 14 members, and two brave Minors, attended to enjoy this great evening at a very interesting venue.
National Drive It Day - Sunday 28th April 2019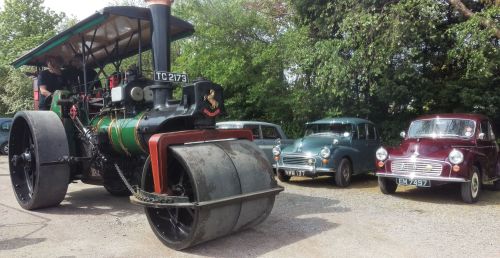 This year we took up the open invitation from Sefton Branch MMOC and joined them for their National Drive It Day event, organised by their Chairman. What a wonderful day it was! We met up with them at Formby, along with some members from the Merseyside Branch. We were made to feel really welcome and everyone was so friendly.
There were seven Minors, two Austin Cambridges and one modern car. Our convoy made its way through Southport stopping briefly at the RSPB car park at Marshside, then drove to the West Lancashire Light Railway at Hesketh Bank. There we enjoyed a ride on the train and were treated to a fascinating "behind the scenes" tour, visiting the workshops and other parts of the Railway not normally seen by the public. On arrival there were other classic cars already there from the North West Casual Classics Car Club so we had time to admire their vehicles as well as each other's cars. There was even a guest appearance by an Aveling & Porter steam road roller! The visit was followed by a drive to the Kicking Donkey pub near Ormskirk where we all enjoyed an excellent meal. A lovely day, with good weather and great company.
BVPG Classic Car Meet, Jubilee Gardens, Cleveleys – Sunday 5th May 2019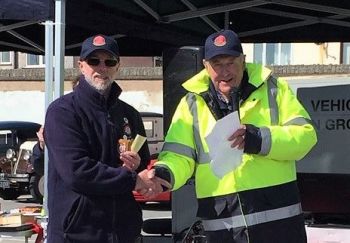 BVPG events are always well organised and well attended and this year at Jubilee Gardens, Cleveleys was no exception. Lancashire Branch now has a stand at BVPG events and twelve club members displayed their cars magnificently – and clearly the judges thought so too as we won the best club stand award! What was forecast to be a dull cold day turned out to be sunny, if a little chilly, but the display of a huge variety of superb vehicles looked fantastic on this lovely site by the sea. Lancashire Branch won "The Best Club Stand" Trophy with our display of 12 Minors at this show. The judge commented on the range and variety of Minor types on display, ranging from a 1949 Low Light Saloon, 1950's Split Screen Convertible and Saloon, 1960's Convertibles, Saloons and Travellers and a later 1970's Traveller. The LCV's were represented by a 1969 Austin 6cwt pickup.
Scorton Bikes & Barrows Festival, Scorton – Monday 6th May 2019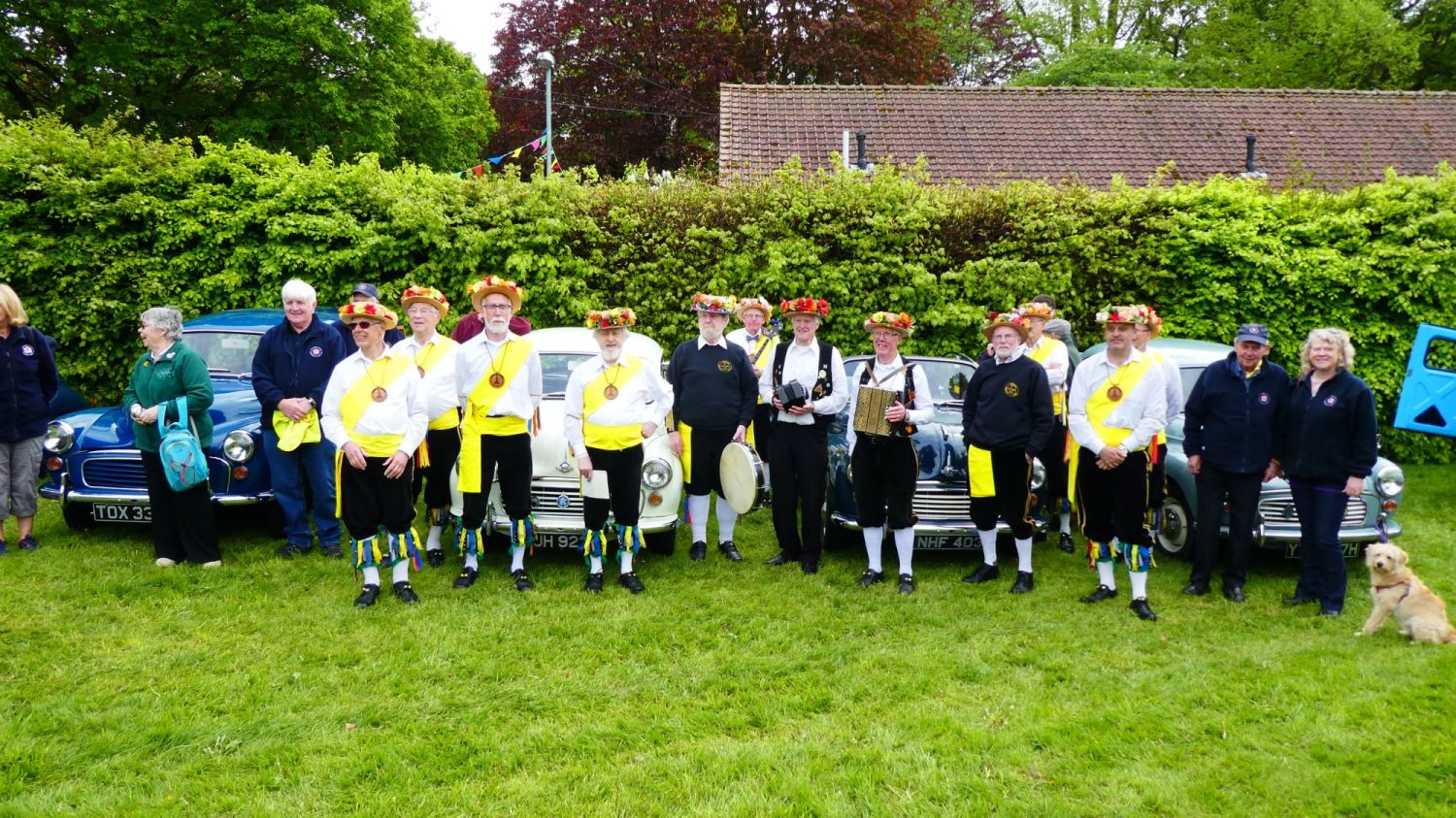 This was the first time the club had attended this event and what a lovely low key event it was too! Members met up and then drove in convoy the short distance to the village. We were displayed on the field next to the children's playground and our 12 cars attracted a lot of interest and attention. Isn't it great that villages continue to arrange and host these local events. Everyone there seemed to really enjoy themselves listening to "Mr Wilson's 2nd Liners Band" and watching the Morris men dancing in their bright get ups. They were very happy to be photographed with our cars – how apt!
North Euston Hotel Red Plaque Award – 6th May 2019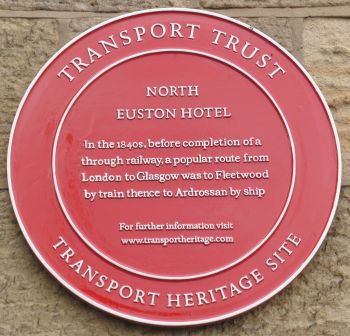 On the day after the BVPG event at Jubilee Gardens members attended this event at the North Euston Hotel in Fleetwood on Bank Holiday Monday May 6th. A Red Wheel plaque, awarded by the national charity The Transport Trust, was unveiled outside the North Euston Hotel. The presentation was part of Fleetwood Day, which took place in the Euston Gardens and celebrates the town and its rich heritage. The Red Wheel plaque recognises the town's role in creating, in the early 1840s, a West Coast route to Scotland. Fleetwood is acknowledged as the first resort linked to the railway system, as the North Euston Hotel provided overnight accommodation for travellers from London Euston, before they boarded the steamer to Ardrossan. In later years Victorian travel agent Thomas Cook organised his first tour of Scotland, through the port of Fleetwood. There was a small display of classic cars and music was provided by the Fylde Ukulele Band and demonstrations by taekwondo students and Fleetwood Army Cadets.
L V C Classic Car Show, Astley Park, Chorley - Sunday 19th May 2019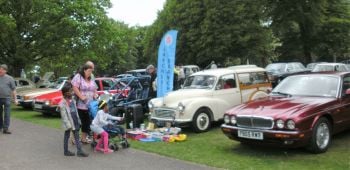 This was another well attended show with over 150 cars on display in the grounds in front of Astley Hall. The weather was overcast but the rain stayed away and the sun decided to make its appearance just before the Raffle was drawn. Lancashire Branch was represented by several members with their Moggies and a lovely Riley RM.
Chipping Steam Fair – Saturday 25th–Monday 27th May 2019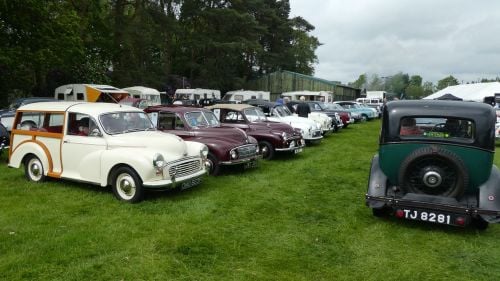 Chipping Steam Fair is a three day event over the late Spring Bank Holiday which is always so well organised and attended. From the magnificent displays of steam vehicles, to the food and craft stalls and of course the displays of classic vehicles this is an event not to be missed. This year the weather started sunny and warm on the Saturday when ten Minors looked great lined up on the display field amongst a wealth of other magnificent classics. One of our members did the club proud by winning a "highly commended" award out of around 150 vehicles for his lovely and rare Lowlight MM. Mixed weather on the Sunday and Monday did have an effect on the numbers attending but hey who cares about a bit of rain – there were still Minors on display.
Great Harwood Show – Monday 27th May 2019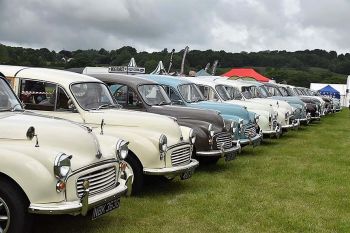 This excellent show is always held on the late Spring Bank Holiday and this year the day started dry and 26 fantastic Morrises in virtually every guise turned up to provide a brilliant display. Ranging from an early MM to a lovely split screen Traveller and a Police car complete with "inmates" the cars just looked great on the club stand. Sadly as the day went on the weather got worse and torrential rain put a "damper" on things but this didn't stop club members enjoying each other's company and chatting to those members of the public who braved the elements.
Heskin Steam Rally - Saturday 1st & Sunday 2nd June 2019


The official name was the '27th Vintage & Steam Rally and Country Fair' and it is now held at nearby Eccleston. This is a huge event with entertainment and bars for three days. Over the weekend of 1st & 2nd June there were over 500 exhibits ranging from antique cycles, motorcycles, commercial and military vehicles of all sizes, Land Rovers, stationary and mobile steam engines from micro to massive and classic cars - complemented this year with a stand of Morris Minors from our Branch and guests. Of course there were lots of retail opportunities from auto jumble to craft stalls.
Given the very wet weather over the whole weekend, the show was a great success and it was pleasing for our first Branch stand there to have about 18 Minors showing over the two days. Several of our Minors joined the parade of vehicles in the main arena and the drivers were interviewed by the commentator.
Yorkshire Rover Club Classic Car Event, Oakwell Hall, Batley – Sunday 2nd June 2019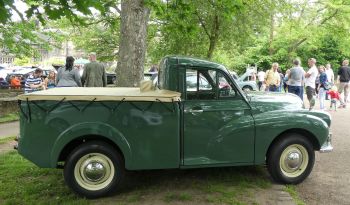 Although ostensibly a Rover Club event this meet is open to all classics. Held at Oakwell Hall near Batley it is a small and friendly gathering in the grounds of this lovely old house. A couple of our Branch members took their Rover P6 and made a weekend of it but it was good to see four Morrises including a lovely green pickup on show. The weather forecast was not good but in the end the sun shone and there were only a few spots of rain. There were some beautiful cars on display and everyone was friendly and welcoming.
Cleveleys Classic Car Show – Sunday 9th June 2019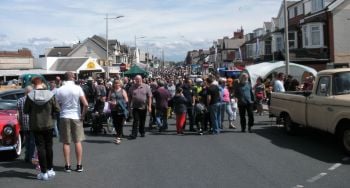 Another Sunday, another show but what was the weather going to be like? The previous day had been a very wet Mechanics Day and we had 2 very wet shows at Chipping and Great Hardwood to look back on but we need not have worried. The sun was out and the crowds followed suit and on the next day Monday, the weather was back to normal – very wet again.
We met with other members of the Blackpool Vehicle Preservation Group on Morrison's Car Park for 08.30 and drove in convoy to our allotted display area off Victoria Street West. The main street and side roads were reserved for Car Clubs with some Clubs and private entries parked on the promenade. The American Auto Car North West Club put on a good display with their Mustangs and Corvettes, quite a few different models from over the years.
The numbers of "Classics" were in a minority but that did not detract from the quality of the other cars on display. We only saw 1 Minor, a "J" reg Old English White Convertible but we did not get to talk to the driver. On the prom, we found displays from quite a few clubs; Land Rover, VW Campers and Audi TT but these were outnumbered by the "modified Ford's" in various states of Tune and Colour Combinations.
3rd Branch Visit to the Isle of Man – Thursday 13th – Monday 17th June 2019


This was our third visit to the lovely Isle of Man and 22 members with their Morrises enjoyed five days of exploring places both old and new. This year we were based at a hotel in Ramsey in the north of the island and each day we had a full and varied itinerary. The roads on the island were ideal for our classic cars and we were blessed with good weather with lots of photo opportunities along the way. A brilliant few days away with a great group of people.
Lancashire Vehicle Club at the British Commercial Vehicle Museum, Leyland - Sunday June 23rd 2019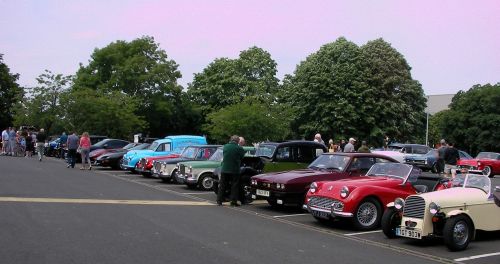 A few Branch members attended this event which was quite busy despite there being a lot of shows on at this time of year. There were about 65 vehicles on the car park opposite the museum, in all shapes & size. Members all enjoyed a brew & natter in the new Museum Café and the opportunity to view the new layout of exhibits in this really interesting museum. The event attracted a lot of visitors, both young and old and families.
---
Morris Minor Owners Club
"

Our aims are simply to promote the preservation and use of the postwar Morris Minor, 1.6 million of which were built between 1948 and 1971.
The MMOC exists to unite these people who have a fondness of these loveable jellymoulds, and those people who still use them as everyday transport.

"